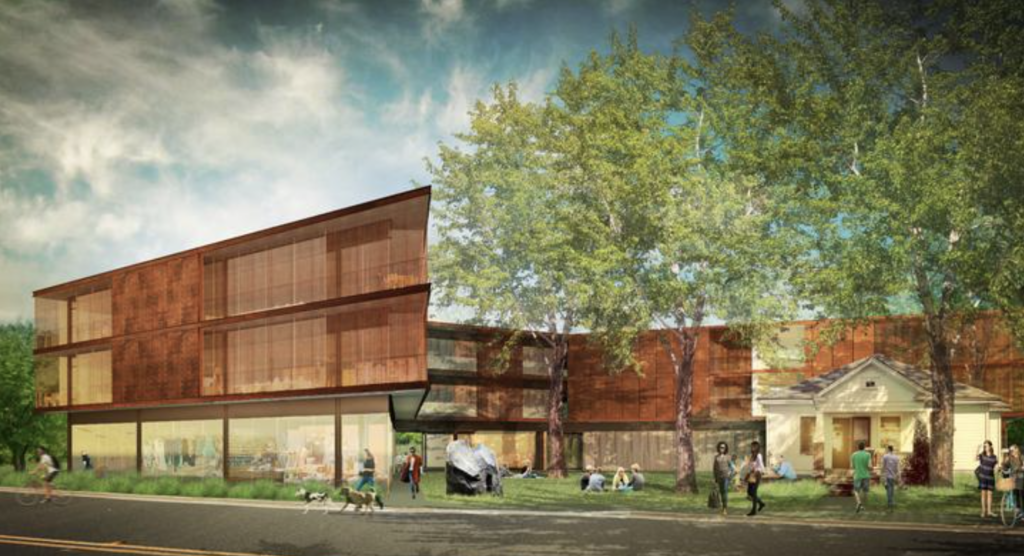 A year after it was first discussed publicly, a 62,000-square-foot creative office in East Austin is close to breaking ground — and the developers claim it will be the city's first ground-up development to use a qualified opportunity fund, a widely watched but little understood federal program designed to spur investment in low-income areas.
Construction on the office building at 1141 Shady Lane in the ThinkEast master-planned development is set to start in July.
A modern, three-story building designed by architecture firm Bercy Chen Studio LP will be the focal point of the development from Austin-based PlaceMKR and New Jersey-based Saxum Real Estate.
A 1920s-era house reminiscent of the bungalows on Rainey Street sits next to the office building and will be preserved — and then renovated and turned into a restaurant. There will also be a 9,000-square-foot outdoor courtyard around the property, according to brokerage firm Newmark Knight Frank, who represented the buyers in the transaction.
Newmark Knight Frank Senior Managing Director Jesse Weber and Director Joshua LaFico will exclusively lease the new development.
"This is an extremely beneficial project for the progress of East Austin," Weber said.
Opportunity zones were designed to spur investment in low-income census tracts. They also offer significant tax cuts and deferrals for those who invest in projects in the zones — up to 15 percent of capital gains invested can be exempted from taxes, if investors keep their money in the zone for at least seven years. Read more about the rules here.
It's not just the real estate investors that will receive tax benefits from investing in 1141 Shady Lane. Tenants of the new building, especially startups raising capital, could be eligible for benefits as long as most of their assets and gross income is derived from that location in the opportunity zone — and if their backers' investment comes from capital gains.
Travis County has 21 opportunity zones, most east of I-35, while the five-county Austin metro has 35. Another large development is planned in an East Austin opportunity zone: Urban East is expected to bring 440,000 square feet of offices, stores and apartments to 6400 E. Riverside Dr. just east of Montopolis Drive.
River City Capital Partners is developing Urban East. Construction is set to start in the third quarter but Cory Older, president of River City Capital, said via email on June 19 that groundbreaking won't be in July.
Regarding 1141 Shady Lane, LaFico said the creative office building is ideal for tech companies and other businesses that are already leasing in East Austin.
"We are proud to work on behalf of Saxum and PlaceMKR, identifying high-quality tenants that will activate the project," LaFico said. "Additionally, the project will have elements of affordability that are intended to support the creative class with two live-work units tied to tenants' median income levels."
1141 Shady Lane is part of the ThinkEast master-planned development, which as it was proposed in 2014, would create 100 live/work units for local artists and designers with between 500 and 1,000 square feet priced around $1,000 per month to meet the rising demand for affordable housing in Austin.https://3467b14eeb809dfc3f182db7867a425b.safeframe.googlesyndication.com/safeframe/1-0-38/html/container.html
The 1141 Shady Lane project will represent the sole office supply immediately adjacent to approximately 875 multifamily units of planned development, including ALTA Trailhead and The Studio at thinkEAST.
East Austin is one of the most sought-after submarkets in the Austin metro, with rental rates increasing from $25.50 per square foot triple net to more than $40 per square foot triple net since 2016.
Read more: https://www.bizjournals.com/austin/news/2019/06/20/creative-office-building-in-east-austin-could-be.html
Article by: Erin Edgemon