The high growth commercial real estate investment and development company based out of Austin, Texas, announced the purchase of La Frontera Plaza, a 97,311 square foot office building at 2700 La Frontera Boulevard in Round Rock, Texas.
November 3rd, 2021 – Residing within the thriving La Frontera mixed-use environment, the Plaza reinforces PlaceMKR's mission to invest at the intersection of culture and commerce, marking one of the largest office acquisitions in the Austin metro area this year.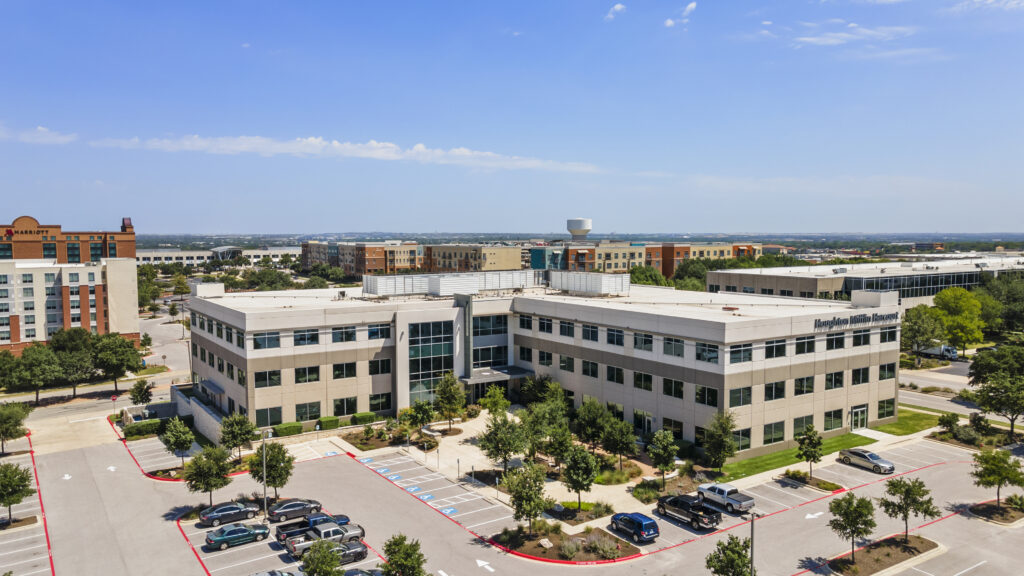 La Frontera Plaza currently houses the regional headquarters for Houghton Mifflin Harcourt, the largest learning technology company in the K-12 market that serves 90 percent of the schools, teachers, and students in the U.S. Houghton Mifflin Harcourt has been a long-term presence in the area's growing tech scene, with Dell's Headquarters and Apple's regional Headquarters located within a five-mile radius of the asset. While Houghton Mifflin Harcourt plans to downsize their current office footprint, PlaceMKR sees a unique opportunity for new tenants to absorb turn-key office space at La Frontera Plaza.
"Austin continues to be a growing technology hub, with major corporate employers including, Google, Apple, Facebook, and Indeed actively seeking to expand their footprints in the northern region of the MSA," said PlaceMKR co-founder Jesse Weber. "La Frontera Plaza's highly accessible location, mature local tech workforce and walkable mixed-use environment, make it a highly desirable office workplace in the North Austin marketplace."
In addition to La Frontera Plaza's close proximity to The Domain's restaurants, retail stores, hotels, and multifamily residences, the property is ideally situated at the intersection of Interstate 35, which connects Dallas and San Antonio, and Highway 45, one of the region's few major east-west thoroughfares. As a testament to the area's growing importance in North Austin, Amazon recently submitted an application to Round Rock for a planned unit development on 193 acres of adjacent land.
"Given its surroundings, this property is a perfect representation of PlaceMKR's mission to invest in communities, not just properties. We see immense potential and value in having a presence in Round Rock, and it is evident the area is poised for exponential growth," said PlaceMKR co-
founder Christopher Cortese. "La Frontera Plaza is poised to house some of Austin's most forward-thinking tech innovators for years to come and we are thrilled to add this exceptional building to our expanding real estate portfolio."
PlaceMKR partnered with RWN Real Estate Partners for the La Frontera Plaza transaction. Active in Austin for several years now, RWN is a middle-market, real estate private equity and lending platform based in New York City. "We are very excited to partner with PlaceMKR on this compelling office investment", said Ari Shalam, Managing Partner of RWN Real Estate Partners. "We share PlaceMKR's enthusiasm for Austin's continued growth and look forward to growing our partnership for years to come."
PlaceMKR's acquisition comes on the heels of the company's recent team expansion. The real estate investment and development firm onboarded Michael Hang as Development Associate and Ignacio de la Morena as an Investment Analyst to assist in elevating its commercial property approach and financial strategies.
PlaceMKR is a passionate team of Austin real estate experts who know where the city is growing and believe in community service through community building. The firm was founded in 2018 to bring a new perspective to commercial real estate investment and development in Austin with a focus on path of progress investing.
Read more: https://www.marketwatch.com/press-release/placemkr-strengthens-real-estate-portfolio-with-the-acquisition-of-la-frontera-plaza-2021-11-03